Fundraising in 2011
Posted on

admin

on

December 13, 2011
December
Four Christmas fetes in December produced a total of £800.  The Porridge Project thanks everyone who helped, donated, bought and texted.  The events were held at:
King Edward VI High School for Girls,  Edgbaston
St. Mary's Church, Ashwell, Herts
Sutton Church, Bedfordshire
Cambridge International School,  Little Abington, Cambridge
Here's more proof (at Cambridge International School on Sunday 4th Dec.) that people love our Text A Chicken Appeal:
October
On Thursday 20 October, pupils from Wrestlingworth Lower School, Bedfordshire, attended their Harvest Service in St. Peter's Church, Wrestlingworth, led by Rev. Lindsay Dew. Guided by their teachers and Headteacher, Mrs Heather Curry, 48 children each presented Kate with a beautifully coloured picture of a chicken with coins carefully attached, for our Text A Chicken Appeal.  Between them they raised £106, representing 53 chickens!
Congratulations to all the children and their families for this fantastic effort.  And many thanks to Mrs Curry for the brilliant idea.
September
On 22nd September, Kate was presented with a cheque for £943 from Headteacher, Dr Harriet Sturdy, raised by the Cambridge International Prep School last year.  On the day of the handover, another £100 was taken in a short craft sale for parents at the end of the school day.  This school has now raised some £3000 and has promised to continue their fundraising for the Kasiisi Porridge Project during this academic year.  A big thank you!
July
On 18th July, during a whole school Morning Assembly, Steeple Morden Primary School Headteacher, Mr Richard LLoyd, presented Kate with a cheque for £1,062 after which the children participated with enthusiasm and interest in a brief update on the progress of the KPP over the year. Kate was told that that this was the highest amount ever raised for a single charity by the school in one year.  In return, and in admiration, Kate handed over a Certificate for the school wall.
On 14th July, Kate was invited by Headteacher, Mrs Jill Davies, to a lively Summer Celebration party at Stondon Lower School to receive a cheque for £393 – the result of this year's terrific and imaginative fundraising, which included among other wide-ranging activities, an Easter egg hunt and finding goodies in a tub of porridge!  The Summer Party kicked off with some exciting and skilful African drumming:
May and June
We took £400 on 18 / 19 June at our stall at the SUTTON FLOWER FESTIVAL in the village of Sutton, Bedfordshire, and £100 at the Four Seasons Market in Potton a week later. Our great thanks go to all our customers and supporters.
In mid-May, a group of Business Administration students from North Herts College, Stevenage, held a fundraising event, making a terrific £491 for the Kasiisi Porridge Project, which they presented to Kate in June. Their tutor Mary Patrick, who came up with the idea,  is second from right, back row.  Each student was presented with an individual Certificate.
In early May, architects Matt Parker and Rob Mawson, together with Bryony Spottiswoode – all from the University of Sheffield, ran the Sheffield Half Marathon, triumphantly raising about £1000 through sponsorship – and all just days before their finals!
Also in early May, Robert Lee, left in the picture (brother of our trustee Ros White – see below) raised a stunning £2000 for the project in his sponsored Coast to Coast walk.
Our trustee Ros White embarked on a Plunge For Porridge again, under the auspices of the Harlow Tye Rotary Club. Her abseiling feat took place on 1st May. She raised a fantastic £1200. What a family!!
See more snaps on our Plunge For Porridge post.
March
GET PAMPERED FOR PORRIDGE was the event held at Maxwells Salon in Biggleswade on 25 March 2011
£500 was raised during this Ladies' Evening for 25 participants.  Maxwells put on a wonderful evening with Pimms and Danish pastries and an entertaining evening of beauty talk and action!  Two people had a total hair make-over, and everyone had a pampering treatment of their choice included within their ticket price of £15.00.  Raffle prizes featured a full hair treatment and some highly special beauty products.
A Maxwells staff member said "What touched our hearts the most was that a donation of just £5 would feed a child porridge everyday for 3 months!"
In early March, KPP supporter Sioned-Mair Richards talked to some of the children of Byron Wood School in Sheffield about life at Kasiisi Primary School.  They saw pictures of the children's long walk to school and back, and then tasted Sioned's maize flour porridge, giving them a true flavour of school life in Africa. In turn the Byron Wood pupils made their own footballs, just as the Kasiisi children do. This picture of Muna, Dan and Yazid shows the footballs after some tough treatment, especially by ace player Muna!  Well done to all of them.
And a big thank you too for the donation they put together for the Kasiisi Porridge Project.
Want to try and make your own?
Go to http://www.cowfiles.com/resources/pdf/How_to_make_a_plastic_bag_football.pdf
On Saturday 12th March, trustee Sue Cleghorn and her husband John held a hugely successful Porridge Breakfast for friends and neighbours, raising over £500 in donations and raffle tickets – with first prize being a magnum of champagne contributed by Moet Hennessy. Our smart new aprons were in evidence, as you see…
On 6th March the Trustees were asked to help out at a friend's birthday party in return for a generous donation.  Well over £400 was raised in total as a result of the day, including some extra sponsorship from guests for our abseiling Ros.  New aprons definitely made us feel the part: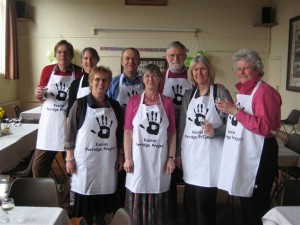 February
On 1st February, Children in Class 2 at Sutton Lower School, Bedfordshire, presented Director of KPP, Kate, with a cheque after raising funds at their Christmas Fayre – producing a total of £60. The children also presented Mary Whitehead from Biggleswade Ivel Rotary Club with a set of pictures showing the various activities they carried out to raise the money.  Mary helped them organise the event as part of her club's RotaKids initiative. Sutton Lower School is the first in Bedfordshire to have participated in RotaKids.  See the gallery of the children 'at work' here.