Matt Parker and Rob Mawson's trip to Kasiisi
UK architects Matt Parker and Rob Mawson are back home now, after doing a wonderful job with our Ugandan partners, developing a School Farm. Self-sufficiency is the aim.
Timber must be prepared and a plot for the farm latrine: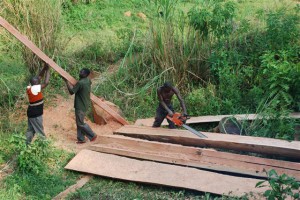 More work on the double, 40 ft latrine:
Joseph outside his temporary house and store, with temporary water barrels:
The latrine has an experimental rammed earth wall.  If successful, this technique will be used for other buildings.
A few things are free – Joseph found wild honey on the farm and collected it for the worker:
Then he cooked a meal for everyone, before starting on tree planting (an avocado tree in this case).
Finally, after 6 weeks, Matt and Rob are treated to a well-earned farewell drink.  They hope to revisit before long.